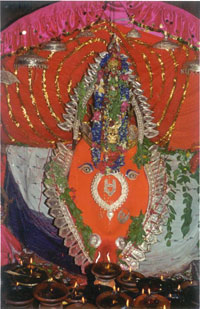 Sambaleswari :
Shree Shree Samaleswari, the presiding deity of Sambalpur, is a strong religious force in western part of Orissa and Chhattisgarh state of India. On the bank of the river Mahanadi the mother goddess Samaleswari is worshipped from ancient times as Jagatjanani, Adishakti, Mahalaxmi and Mahasaraswati. The region in which the temple is situated has a rich cultural heritage. Sambalpur region is popularly known as Hirakhanda from ancient times. Ptolemy has described the place as Sambalak, Acording to Tavernir, the French traveller, and Edward Gibbon, the English historian, diamonds were exported to Rome from Sambalpur.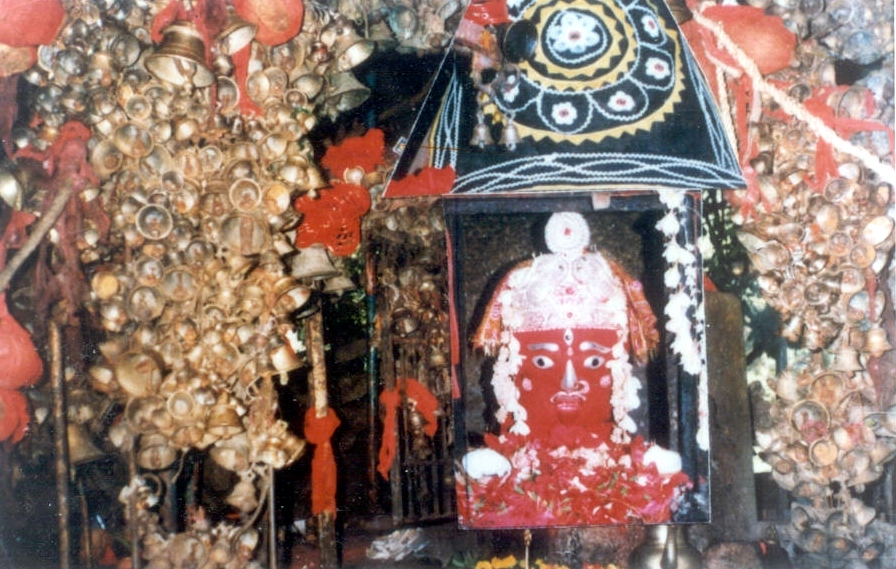 Maa Ghanteshwari temple :
Maa Ghanteshwari temple is a temple in the district of Sambalpur, the western region of Orissa, India. As the name suggests there are bells everywhere.[1] People offer bells to goddess Ghanteswari or the Deity of Bells, after fulfillment of their wishes. A large number of pilgrims from across the state visit the temple. It is known as the 'lighthouse without light', built by the early sailors, for whom the bells served as warning against heavy winds. The special significance of this place lies in the great number of small bells hanging all around.
Maa Ghanteshwari Temple is situated 33 kilometres (21 mi) southwest of the district capital Sambalpur on the bank of Mahanadi River. The Chipilima Hydro Powerplant is located near the temple on the same riverbank.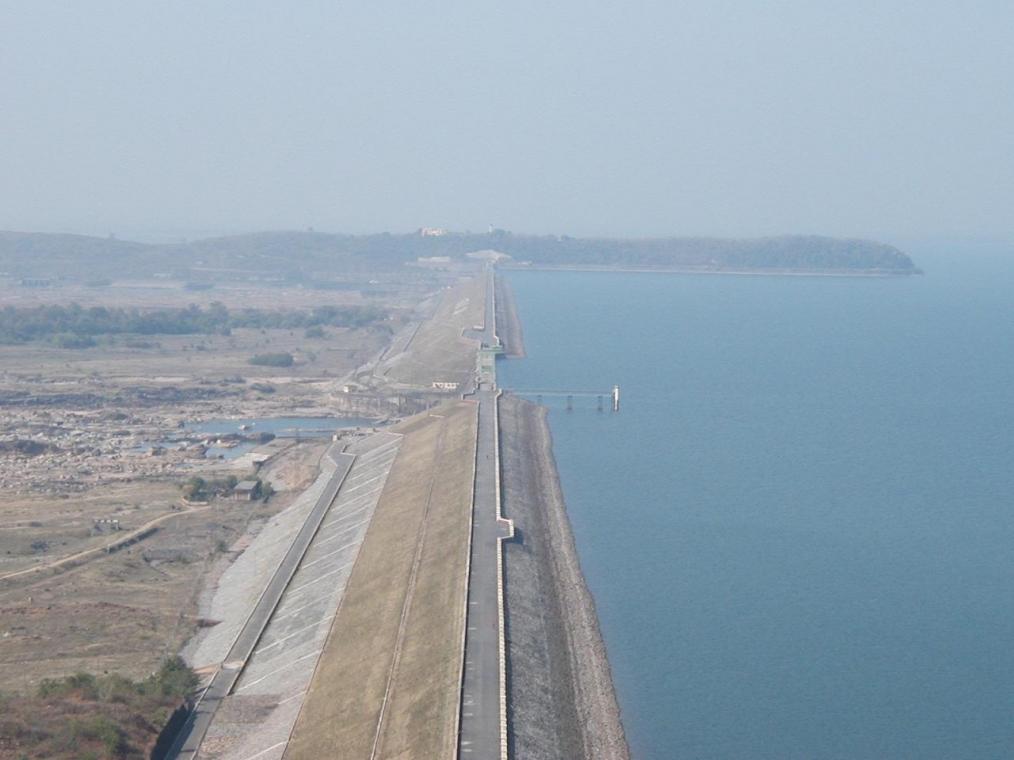 Hirakud Dam :
Hirakud Dam Project is built across river Mahanadi at about 15 Kms. upstream of Sambalpur town in State of Odisha. This happens to be the first post independence major multipurpose river valley project in India. The dam is 6 Kms from NH 6 . The nearest rail head is Hirakud railway station (S.E.R) which is 8 Kms from the dam site.
The project provides 1,55,635 Hects of Kharif and 1,08,385 Hects of Rabi irrigation of Sambalpur, Bargarh, Bolangir, and Subarnpur. The water released through power house irrigates further 436000 Hects of CCA in Mahanadi delta. Installed capacity for power generation in 307.5 MW through its two power houses at Burla , at the right bank to and Chiplima , at 22 Kms down stream of dam . Besides the project provides flood protection to 9500 sq Kms of delta area in district of Cuttack and Puri.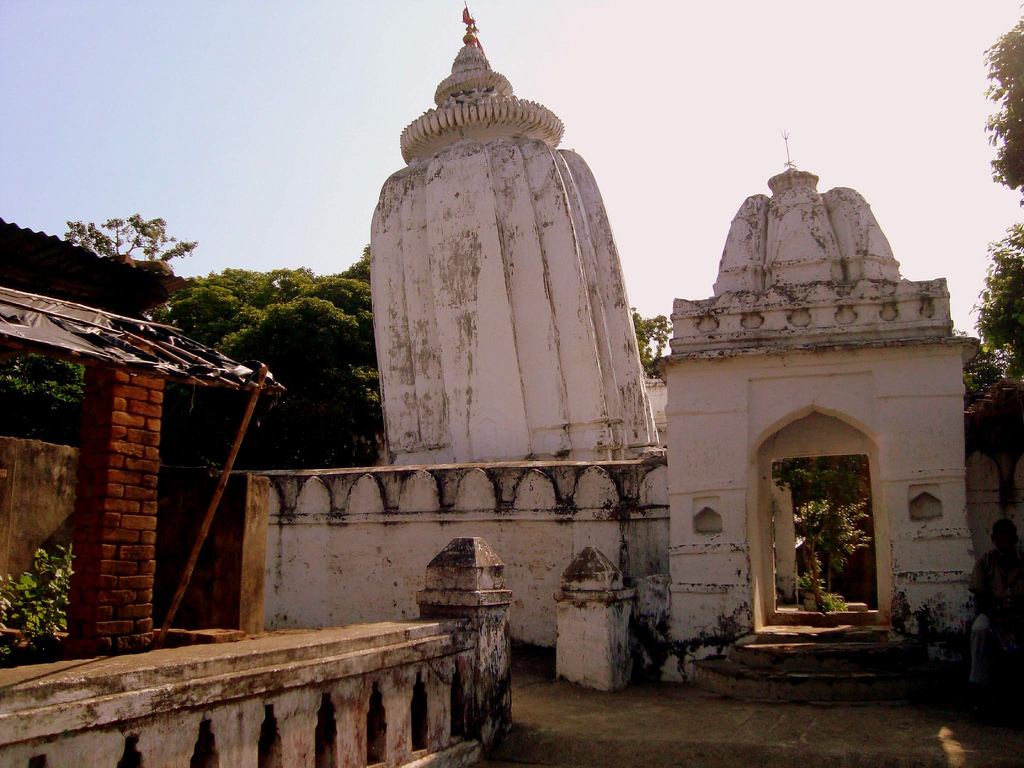 Huma temple :
Huma temple, situated near Sambhalpur, was established in the year 1670. It is believed that the temple was built by the King Baliar Singh, the fifth king of the Chauhan dynasty of Sambalpur. It is popularly known as the Leaning Temple of Huma, as it does not stand upright and is tilted towards one side. Infact, almost everything within the temple complex is skewed. The temple is located on the banks of Mahanadi River, at a distance of about 23 km from the Sambhalpur district of Orissa.

The temple is dedicated to Lord Shiva, one of the Gods forming the Hindu Trinity. There is an interesting legend behind the construction of the Huma temple. People say that there was a milkman, who used to go across river Mahanadi to worship Lord Shiva. He used to offer milk to the Lord everyday. One day, to his surprise, the rock idol consumed the milk offered by the milkman. This miraculous incident paved way for the construction of temple. During Shivratri, a grand fair takes place at the Huma temple.

Location: 23 km from Sambalpur
Founded In: 1670
Dedicated To: Lord Shiva