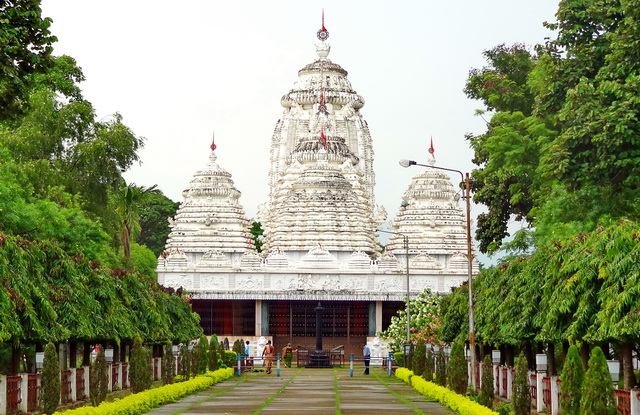 LaxmiNarayana :
The road was surprisingly good and the view was awesome with verdant farmlands hemmed in by hills all around. A corporate house, Indian Metals and Ferro Alloys Limited (IMFA) have built a beautiful temple complex within their campus.
The architecture is classically Odishi but instead of limestone, the structures are made of concrete. The main shrine is devoted to the deities Lakshmi and Narayan and hence is known as the Laxminarayan Temple. In addition to idols of these deities, there are idols of Jagannath, Balabhadra, Subhadra and Hanuman inside this temple.
Maa Majhigharani :
The presiding diety of Rayagada, Maa Majhghariani, is known as Majji Gowri in A.P. Originally a tribal diety, she is considered to be an incarnation of Goddess Durga. In the 4th century AD, when the Emperor Samudragupta invaded this area,
the local ruler was able to successfully defend his kingdom with the blessings of this Goddess. In the 14th century, a temple was built at the exact centre of a fort (Majhi Ghariani literally means occupant of the central house) and that is how she acquired this name.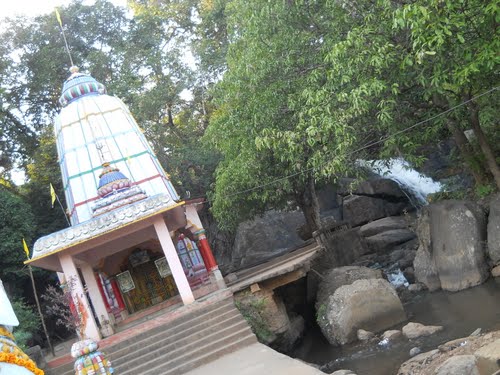 Chatikona :
Rayagada is a mineral-rich district in the southern part of the state of Orissa, in India. The city Rayagada is its headquarter. The population of this district consists mainly of tribals. The primitive Kondhas or Kondhs form the majority of population followed by Souras. The District occupies a total area of 7,584.7 km2. Rayagada is divided into eleven blocks.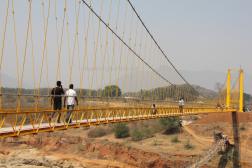 Hanging Bridge :
The Hanging Bridge that connects the two sides of river Nagavali, which providing connectivity to the poor rural tribal population, a 151 metre suspension bridge, the second of its kind in the state.
About 20,000-odd tribal villagers residing in nine panchyats, on either sides of the Nagabali river, located at the outskirt of the town has certainly brought them closer to the Rayagada town.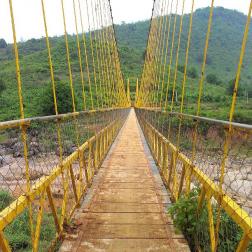 It is Designed by Karnataka based Bharat Grama Sethu Pratisthan Chief Girish Bhardwaj the work was ascribed to Odisha Police Housing corporation by the district administration, which worked out more than one crore project.