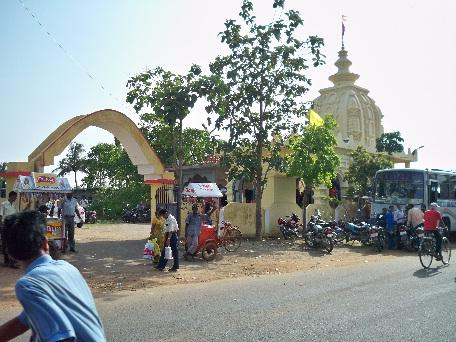 Jharsuguda is the district headquarters of Jharsuguda district of Orissa, India. It is the administrative headquarters of Jharsuguda district. It is an upcoming industrial hub, basically in the metal and cement sectors. Jharsuguda is well connected to all major cities of India through rail network. It is popularly known as the power house of Orissa due to large number of thermal power plants located nearby.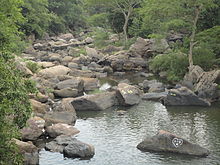 Koilighugar Waterfall :
The Koilighugar Waterfall, around 200 ft in height, is in the Lakhanpur, near the village Kushmelbahal. The waterfall is in a rivulet named Ahiraj which originates from the 'Chhuikhanch' forest. After the fall the rivulet flows west wards to merge into the Mahanadi river.
It is a picturesque beauty spot with its sylvan back drop. Inside the fall there is a Shivalingam known as 'Maheswarnath'. The lingam is submerged in water and is not ordinarily visible. For the benefit of the pilgrims, another Sivalingam has been created outside the waterfall. Koilighugar has an annual fair on the occasion of Sivaratri.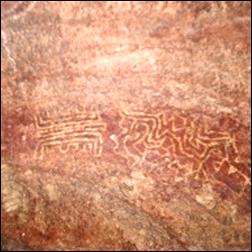 Bikramkhol :
Bikramkhol Cave is a favorite tourist destination situated on the Jharsuguda-Lakhanpur Road at about 25 km from Jharsuguda.
It is a famous cave which contains pictographic inscription dating back to 1,500 BC.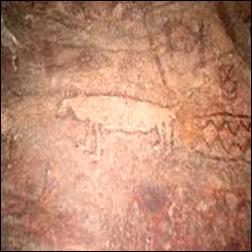 According to the historians, these prehistoric inscriptions are of great importance. The replica of these inscriptions are seen at Odisha State Museum, in Bhubaneswar.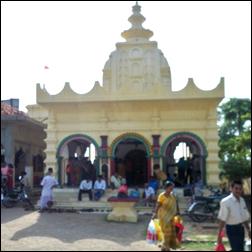 Jhadeswar Temple :
The Jhadeswar temple is located at a distance of about 1 km. from the Jharsuguda Railway station beyond the old town Purunabasti inside a small forest. There is a self appearing Sivalingam here the actual age of which is unknown. But during the reign of Govind Singh Jamindar of Jharsuguda the lingam was being worshiped inside a hut made up of leaves.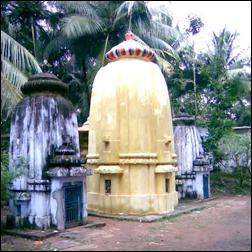 In 1916 a Gujarati contractor named Mulju Jagmal erected a small temple here. The Jamindar of Jharsuguda arranged Savayats for daily worship and donated agricultural lands for maintenance of the temple and puja.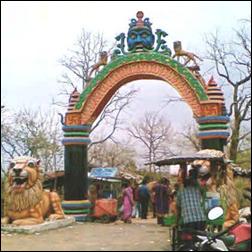 Chdndi Mandir :
It is located about 30 km from Jharsuguda Railway Station at Brajarajnagar. Goddess Chandi is worshipped here and the Chandipitha is located inside a natural rock cave on the banks of river IB. One can get down to the temple one can get down to the temple by the iron stairs. And from the temple one can have a beautiful view of the natural surroundings of the banks of the river Ib. It is a very nice picnic spot.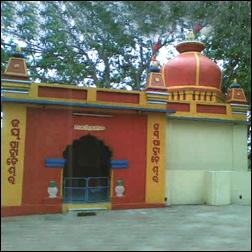 Pahadi Mandir :
Pahadi Mandir is located at a distance of 3km from Jharsuguda Railway Station & 3.5 km from bus stand on a small hilltop.Lord Shiva is worshipped at the temple. A beautiful view of Jharsuguda town can be seen from the hilltop.