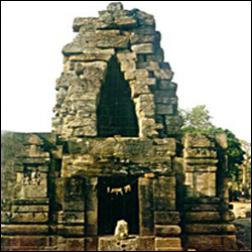 Kanakeswar :
72 km from Dhenkanal, 45 km from Angul and 25 km from Talcher town, Kualo is famous for housing a plethora of temples dedicated to Lord Kanakeswar, Baidyanath, Paschimeswar, Balunkeswar and Kapileswar. In its ruined form, the temple of Kanakeswar is about 24 meters high and preserves some of the earliest specimens of sculptures representing ancient temple building activities in Orissa.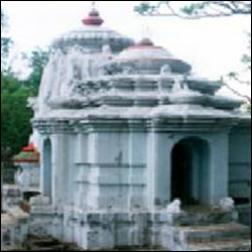 Vishnu :
Sixty-seven kms from Dhenkanal, 23 kms from Angul and 3 kms from Talcher, is the Anantasyi image of Lord Vishnu, on the rocky bed of the river Brahmani at Saranga. The hoods of Ananta, the serpent king spreads over the head of Lord Vishnu as the crown and cover. The primal lotus, housing Brahma, the creator, originates from Vishnu ' s navel, the Supreme Being enjoying deep delight of his cosmic sleep in the waters of the river Brahmani.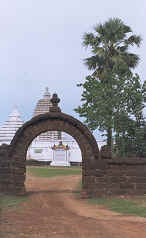 Joranda :
Famous as the religious headquarters of 'Mahima Dharma', Joranda houses the samadhi of Mahima Gosain, the preacherpropounder of the Mahima Cult, The other sacred temples are the 'Sunya Mandira', 'Dhuni Mandira' and 'Gadi Mandira' Pilgrims in large numbers pour forth to Joranda fair held on full-moon day of Magha which falls in January-February every year.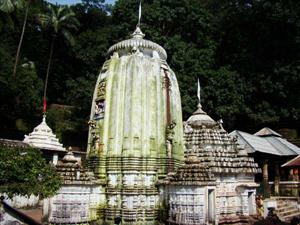 Kapilas :
It is one of the famous Saiva Pitha of Odisha and also a well-known tourist place . This place is allegedly known as Second Kailash. The Kapilas is situated above 2239 feet above sea level. The way to the temple consists of 1352 steps.

The temple was constructed in 1246 AD by King Narasinghdeva-I. Marichi kunda & Payamruta kunda exists on right and left side respectively of the main temple. Apart from the holy shrine linga of Shiva one can found the sculptures of other Gods and Goddess like Ganesha, Kartikeya, Gangadevi etc. Jagannath Temple, Viswanath Temple and Parsva Deva Temple is also situated in Kapilas. A number of festivals are celebrated here at Kapilas. But celebration of Maha Shivaratri is a festival to watch. People of different parts of Odisha as well as India is coming to offer a prayer here on the day Maha Shivaratri.