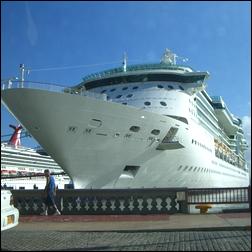 Dhamara Port :
Dhamara Port is an ancient port on the banks of the river Baitarani, around 5 kms from Kanika Palace. The reminiscent are the direction tower and some ancient structures.
The nearest railway station is Bhadrak which is 62 kms away from Dhamra on Chennai to Howrah line. Bhadrak is 143 kms from Bhubaneswar and 297 kms from Howrah. A single track broad gauge line has been constructed by DPCL from Bhadrak or Ranital Link Cabin to Dhamra. Dhamra is connected by road with Bhadrak 82 kms, the nearest major town on the National Highway 5. The distance between Dhamra and Bhubaneswar is 205 kms.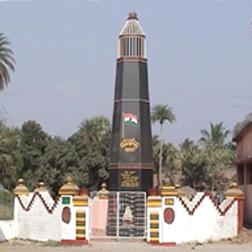 Raktatirtha : Location This famous place of sacrifice located at 16 km away from Basudebpur of Bhadrak district. One side of this land is bounded by the Bay of Bengal and the other three sides are surrounded by two rivers the Gameye and Kansabansa. Secured by these natural boundaries this place is used as a citadel by the freedom fighters. Due to these natural boundaries it is not so easy for the police and the administrative persons to enter in to this place.
More over there is an open field bounded by three sides with one gate in its north east direction, which was used by the freedom fighters as a place of public meeting. Starting from 1920 prominent nationalist leaders of ODISHA like Utkalmani Gopabandhu Das and Utkal Kesari Dr. H.K. Mahatab perform public meetings at that place for several times to propagate the Gandhian ideals of freedom struggle. The Unpleasant Incident During the time of Quit India Movement this field of Eram was frequently used by the freedom fighters for public meeting and agitation against foreign rulers.
On 28th September 1942 there was a huge gathering at that place. Afraid by this gathering a police force from Basudebpur police station, lead by DSP Kunjabihari Mohanty march towards Eram. As like Jaliyanawalawag here DSP Kunjabihari Mohanty acted as General Dayar and opened fire to the huge gathering at 6.30 pm, who were performing the agitation against the foreign rulers in a peaceful way. Since the field was bounded from three sides therefore no one able to get escape as of the field and within some minutes 28 persons get dead on the spot and 56 get injured, another person among the injured get dead later on. Among the dead include one woman named Pari Bewa, who is regarded as the only lady martyrs of ODISHA. Here the situation is very much similar to that of Jaliyanawalawag and the numbers of martyrs were also just second to jaliyanawalawag.
Therefore Eram which is popularly known as Rakta Tirtha (The Pilgrim of Blood) after this unpleasant incident was truly designated as the Second Jaliyanawalawag of India. The Martyrs 1. Pari Bewa , Eram, Basudebpur 2. Gopal Chandra Das , Padhnuan 3. Biswanath Das , Padhuan 4. Bijuli Das , Padhuan 5. Hrushikesh Behera , Padhuan 6. Madan Palai , Padhuan 7. Ballahaba Behera , Padhuan 8. Magha Mahalika , Padhuan 9. Bhua Majhi , Padhuan 10. Kali ajhi , Padhuan Kumarpur 11. Radhu ahalika , Padhuan Muladiha 12. Dhruba Charana Dey , Padhuan 13. Basudeb Sahu , Padhuan 14. Hari Behera , Padhuan 15. Dibakar Panigrahi , Guda Kesagadia 16. Krushna Chandra Swain , Padhuan Kumarpur 17. Bhaban Rout , Padhuan Nandapura 18. Nidhi Mahalika , Padhuan 19. Brundaban Panda , Padhuan 20. Upa Mallika , Nuangan 21. Krupasindhu Behera , Sankharu 22. Rama Majhi , Padhuan Kumarpur 23. Mani Behera , Padhuan 24. Kati Sahu , Iswarapur 25. Ratnakar Pani , Sudarsanpur 26. Mani Pradhana , Suan Sudarsanpur 27. Pari Das , Suan 28. Sankar Mallika , Adhunan 29. Gobinda Rout , Artungan Ref. Sangrama Bhumi Bhadrak a book in Odia.