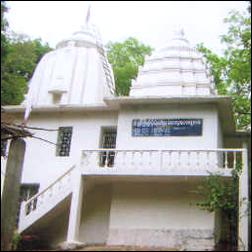 Jaya Mahadeb : We learn from the Epics that Lord Shiva guzzled poison which trickled during churning of the Deep using Mandara Hill as a shaft. For the welfare of the Universe, He drank the poison that coloured his neck blue. In order to remain cool and composed he let the river Ganges descend from the feet of Lord Vishnu on his mat. So wel called him Gangadhar. Since the moon which signifies coolness adorns his forehead. He is named as Chandrasekhar.

Because of this necessity, man probably associated profuse water with the worship of Lord Shiva. Hence during ablutions we use much water and milk to gratify him. Peculiarly Lord Loknath in Puri remains completely ducked under water but unfailingly water dribbles on the Linga at every Shiva Temple.
However, like Panchalingeswar, the rarity of Jal Mahadev is that He displays himself(Swayambhu) beneath the flow of a perennial stream. So devotees drop bel leaves and flower on the gushing rill. Picturesque surrounding casts charm and placiditly on solemn presence of the Lord. Moreover, a number of Shiva Lingas are ferreted out at the site which were probably earlier adored by ascetics. This fact oints to antiquity of the site which perhaps was a hub of religious activities. Like Harishankar, dense forest cover enriches the backdrop of a modern temple. The white edifice of Trilingeshwar was completed by Sri A.U.Singhdeo, The Ex-Minister of Tourism, Odisha few years before.
The stream amid nature provides ample scope for bathing in privacy. Nature lovers and pilgrims throng the place for picnic and a holy dip., As the destination is located at the foothills of the Gandhamardan, exotic plants, birds, animals, reptiles and insects get full freedom to roam and flock. So a visitor gets solace and real vaalue of his money.
For all these reasons, visitors from Chhatisgarh, Madhya Pradesh and Odisha enjoy these two places by own transport. There is a connecting route from Harishankar to Jal Mahadev(6/7 KMs) but it is not motorable nor free of accidents. So if pucca road can be lad for the benefit of visitors and tourists the distance and time will be reduced and journey will be most exciting. The visitors may commune with nature and stumble upon wild animals. Thus they will have a choice for picnic either at Harishankar or Jal Mahadev. But they can pay respect at both the places. In addition, one can visit the Deer Park, Herbal Garden and local market at Harishankar. Trekkers can try a 16 Km route to reach Lord Nrusingh at the other side of the Gandhamardan Hills.
Jal Mahadev is 84 KM from Balangir via Khaprakhol. Khaprakhol (16km from Jal Mahadev) is a vintage point and well connected with Balangir, Bargarh(68 km) Nuapada(67KMs) Kantabanji(68KMs) Titilagarh(144 KMs) One is to take a left turn at village Maharapadar(08KMs) on the way from Khaprakhol to Harishankar(13 Km) and reach another village named Kandarabhata which is only One Kilometer away from Jal Mahadev. However, this fag end of the road is not blacktopped and an unstable bridge keeps the are detached during rain.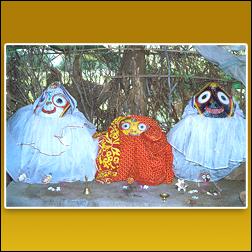 Jagannath : A village revived its old celebrity that it was a seat of religious activities during Savapuriya Dynasty before the advent of the Somavamsi Kesharies(8th Century). An open space surrounded by paddy fields, presently houses three monolithic deities of Jagannath temple.
However, the stone images of Lord Jagannath, Balabhadra and Subhadra, unique of its kind were known to humankind after an excavation made in accordance with an afflatus received by a villager. Respective colours of the deities are applied to these Idols ranging not more than 1.5ft in height. The age and time of execution can only by revealed after Carbon testing. One can reach Balangir by bus or train. From Balangir one can visit Patnagarh by bus or taxi.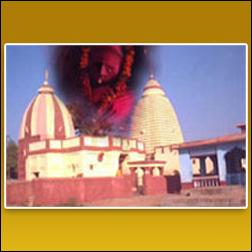 Patmeswari : The ancient capital of the kingdom of Patna, Patnagarh combines in happy synthesis its mythic past with the modern present. The temples of Patmeswari in Chalukyan style and that of Someswar Siva belonging to the 12th Century are the monuments of prominence. One can find here the reminiscence of the earliest group of temples build during the Chauhan rule in Western part of Odisha. One can reach Balangir by bus or train. From Balangir one can visit Patnagarh by bus or taxi.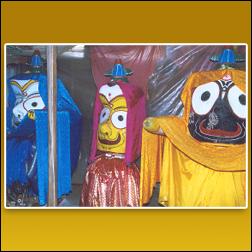 Narasingh : It is a rustic village of aborigines. Yet accommodates magnificent images of Jagannath Cult, made of neem tree. The village derives its name from Narasingh, the fourth incarnation of Lord Vishnu who is believed to have killed a demon named Mura who prayed the God to be remembered in association with the name of the Lord Narasingha. Though the village is yet to erect a proporti9onally big and decent temple for the deities, there is no let up in the rituals of these vaishnavite idols at par with those of Puri.
The villagers exhibited an incredible moral change under the leadership of a school teacher named Bijoy Kumar Mohanty. Mr. Mohanty was in charge of the worship of former small idol of Lord Jagannath. He received an afflatus and located the holy neem tree along with the villagers who initiated to invite the rajguru of the king of Puri for consecration. an old lady named Kayavati Pradhani(75) donated land for the construction of a temple as a mark of her respect and lover for late husband. Presently the magnificent deities are placed and worshipped in a temporary shade and all the religious festivals and rituals are going on in accordance with Hindu belief. Here the deities underwent Navakalevar and traveled in three separate chariots this year during Car Festival amidst 20000 onlookers from neighjbouring villages.