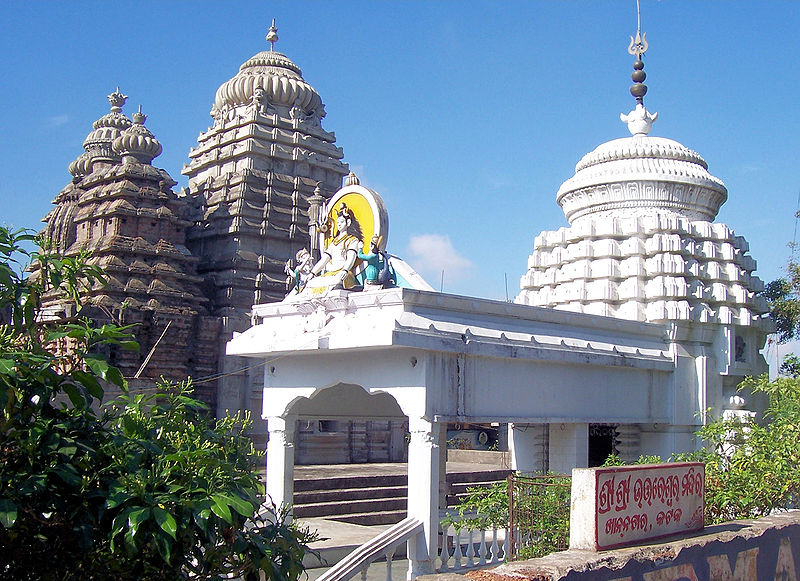 Dhabaleshwar Temple :
Dhabaleshwar Temple is located on the shoreline of river Mahanadi, 37 km from Cuttack city, Orissa, India. Devoted to Lord Shiva, this godly shrine with its pure green environs, lifts up one's spirits to a morally superior plane.

The temple is based on a tiny mountain peak in a small island in the river Mahanadi. The isle is naturally very rich and is contentment to the eyes of a sightseer. Dhabaleshwar is well known for its extensive golden seashore and sand- blanched Lord Shiva shrine. The temple is embellished with stone carvings that date back to the early 10th and 11th century. The serene ambiance, in which the temple is situated, inspires spiritual feeling among one and all.The antiquity of the temple coupled ith its serene ambience make this place a ideal visiting place and one of the important temples of Orissa.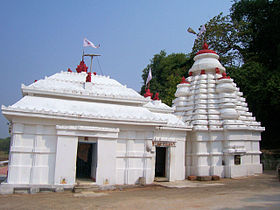 Bhattarika Temple :
Bhattarika Temple, located in sasanga village, baramba, Athgarh, Cuttack District, India is dedicated to the Hindu Goddess Maa Bhattarika worshipped as a manifestation of Shakti. The temple is situated on the banks of the River Mahanadi. As per Puranic tradition Parasuram facing certain defeat at the hands of Saharasjuna prayed to Durga who appeared on this spot to impart her divine power to the aid of Parashuram.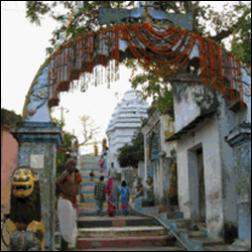 Charchika :
On the right bank of river Mahanadi is Banki, which has the shrine of Goddess Charchika, one of the eight Shakti shrines of Odisha Tribal Empowerment and Livelihood Programme(OTELP). Regular bus services are available from Cuttack to Banki, a distance of 52 kms. The nearest accommodation to this place is available at P.W.D. I.B., Banki. One can also get nearest accommodation facilities at Cuttack city.
Banki Police Station is the nearest Police Station to the place. One can easily approach SBI, Banki for Banking purposes. Banki SDH is the nearest health centre to the place. Oriya, English and Hindi are the common languages spoken in Banki. People of the locality wear light cotton during summer and woolen during winter.
Banki is at a distance of 52 kms from Cuttack. The nearest railway station is also at Cuttack. Bhubaneswar is the nearest airport, at a distance of 82 kms.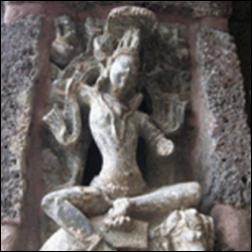 Chaudwar :
Choudwar is a place of historical importance, which has now become one of the industrial centres of Odisha Tribal Empowerment and Livelihood Programme(OTELP) Tribal Empowerment and Livelihood Programme(OTELP). It was once the capital of Somakali Keshari Kings of Odisha Tribal Empowerment and Livelihood Programme(OTELP). Eight prominent Siva Pithas were established here by the Keshari Dynasty. One can get accommodation facility in Choudwar. The nearest police station is Choudwar Police station. ESI Hospital, Choudwar is the nearest health centre. SCB Medical college and hospital in Cuttack is also near to Choudwar. The main languages of locality are Oriya, Hindi and English. Light cotton in summer and woolen in winter is the clothing of Choudwar.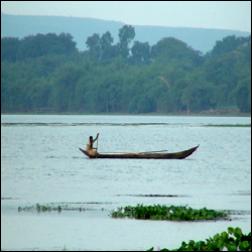 Ansupa :
Nearer to Athagarh, Ansupa is a small but picturesque lake offering an asylum to migratory birds in winter. The water spread is ideal for fishing and boating. The nearest bus stop is Athagarh. Regular bus services are available upto Athagarh from Cuttack. One has to travel the road distance from Athagarh to Ansupa (14 kms) either by hired Taxi/ Auto rickshaw. The accommodation facility near to Ansupa can be located at P.W.D I.B, Athagarh and also at Cuttack city. For financial purpose, the nearest bank located to this tourist place is S.B.I at Athagarh. The common languages spoken in the area are Odia, Hindi and English. Athagarh and S.C.B Medical college of Cuttack City are nearer to Ansupa for accessing medical facilities. People wear light cotton in summer and woolen in winter.
To reach Ansupa, one has to travel to Athagarh, which is at a distance of 54 kms from Cuttack. Then he can tread the distance to Ansupa by road, a distance of 14 kms. The nearest railway station is at Cuttack (68 kms) and the nearest airport is at Bhubanesawar, at a distance of 101 kms.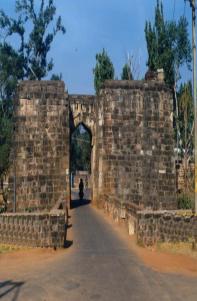 Barabati Fort :
The ruins of Barabati Fort with its most and gate and the earthen mounded of the nine-storied palace of the Ganga dynasty lie on the bank of the river Mahanadi as the silent witness of the vicissitudes of Odishan history. Another item of interest is the Barabati stadium adjacent to the fort. The stadium with its impressive structures covers an area of twenty-five acres and affords sitting capacity for thirty-five thousand persons. Its delightful soft green turn hums almost daily with programmes of sport events and cultural functions. The installation of Flood light system is another attraction of Barabati Stadium. Nearly is the ultramodern Jawaharlal Nehru Air-conditioned Indoor Stadium having a sitting capacity for 6,000 person.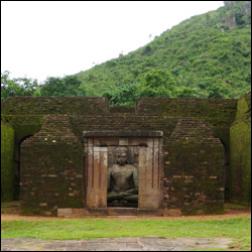 Latlitgiri :
One of the earliest Buddhist site, Lalitgiri was visited by the Chinese traveler Huien T Sang in the seventh century A.D. The large numbers of antiquities excavated here testify this place to be a part of the Puspagiri Buddha Vihar. Regular bus services are available from Cuttack to Paradeep and Kendrapara via Chandikhol. The nearest bus stop is Bandareswar Chhak. Lalitgiri comes under Balichandrapur police station. Accomodation facilities are available at Chandikhol and Kendrapara. Balichandrapur Police station is the nearest Police station to Lalitgiri. The nearest bank to Lalitgiri is SBI Balichandrapur. For medical facilities one can go to P.H.C Balichandrapur. Main language spoken in Lalitgiri are Oriya, Hindi and English. Light cotton clothes are wore in summer and woolen in winter .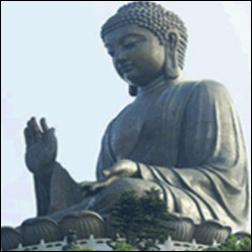 District Headquarter : Cuttack
State Capital : Bhubaneswar
Nearest Railway Station : Cuttack Railway station
Nearest Airport : Bhubaneswar Airport
How to Reach :
Approachable road connects Cuttack to Bandareswar Chhak, a distance of 61 kms. One has to travel the distance from Bandareswar Chhak to Lalitgiri (3 kms), maybe by hiring a cycle rickshaw. Cuttack is the nearest railway station and Bhubaneswar is the nearest airport, their distances being 64 kms and 97 kms respectively.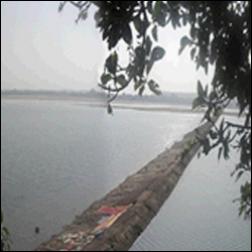 Naraj :
Naraj is situated at the origin of river Kathajodi from Mahanadi. The place presents a panoramic view of nature and is also frequented by pilgrims for the sacred shrine of Lord Sidheswar. There are many Buddhist images found at the site. It is also a picnic spot. The nearest bus stop is at Badambadi, Cuttack. Accommodation facilities are available at Irrigation I.B Naraj and Cuttack city. For banking purposes one can go to the nearest SBI bank located at CDA, Cuttack. Oriya, Hindi and English are the common languages spoken in this place. Light cotton in summer and woolen in winter are the clothing of locality.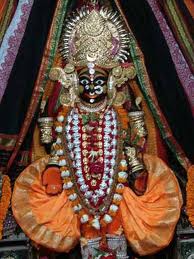 Cuttack Chandi:
The Katak Chandi Temple is an ancient temple dedicated to the Goddess Chandi, the presiding deity of Cuttack, Odisha. The temple is located nearby the banks of the Mahanadi River. It is famous for the annual Durga Puja and Kali Puja festivals.
The Durga Puja festivities are prominent in Maa Katak Chandi temple which takes place for 16 days stating from dark fortnight of Ashwina Krishna Ashtami till Ashwina shukla navami and Vijayadashami. The goddess popularly called as Maa Katak Chandi, sits and rules on the heart of the ancient city.

She has four hands holding Paasha (noose), Ankusha (goad), gestures dispelling fear (Abhaya), and granting boon (Varada). She is worshiped as BhuvaneshvariMahavidya (the queen of universe) by Sevayatas belonging to Utkala Brahmins everyday. Maa Chandi is worshipped in various incarnations of Durga during the puja. In Cuttack, people strongly believe Maa Katak Chandi as 'The Living Goddess'.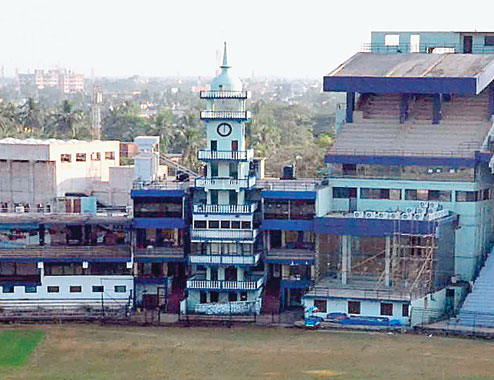 Barabati Stadium :
The Barabati Stadium is a cricket and association football venue in the east Indian city of Cuttack, Odisha. It is the home ground of Odisha cricket team and is operated by Odisha Cricket Association.
Odisha First Division League football matches are also held at the stadium. The Barabati Stadium is one of the older grounds in India, having hosted several touring sides including the MCC, the West Indies team and the Australians before it hosted its first international match.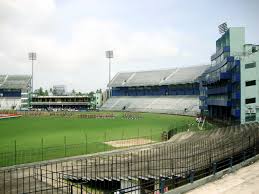 It is equipped with floodlights for day-and-night games and is a regular venue for One Day Internationals matches. Some top level Football matches are also played here.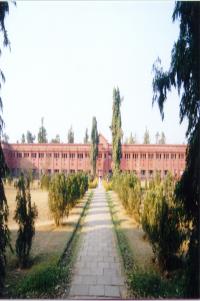 Ravenshaw University :
Ravenshaw University earlier known as Ravenshaw College is the premier educational institution of Odisha established in 1868.