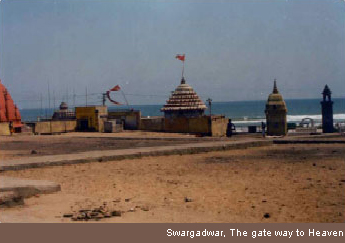 Swargadwar is the creamation ground of Hindus. 'Swarga' means heaven and 'dwar' means gateway, so literary Swargadwar is consider as the 'Gateway to Heaven'. General belief support the idea among Hindus to end their life in this holy place of Puri to get the accessibility to heaven for liberating their Soul and ultimately Salvation. Swargadwar,is in the sandy beach towards the South western corner of the town. In every Amabasya God Narayana represents Lord Jagannath in visiting sea which is said to be the in-law house of the Lord,through this holy cremation ground. On this holy site situated the temple of Goddess Smasana Kali. Goddess Kali act as the guard of Swargadwar and stand as the proof for all Heaven going Soul.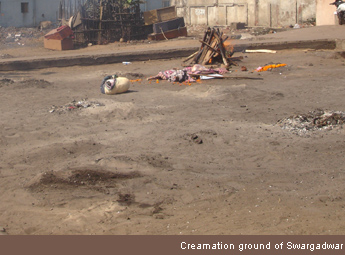 Purusottam Kshetra Puri has been accepted as the 'Martya Vaikuntha', where Lord Vishnu stays as Jagannath in the Bada deula, the great Temple. Here everything has been said to be great 'Bada' i.e. Bada danda, Mahaprasad, Mahadipa, Mohodadhi, etc. Any body, therefore, dies here straight goes to heaven and attains salvation. 'MUKTI' undoubtedly achieved through this Swargadwar, besides the Mohodadhi (sea). The devotees attach very strong faith in it and get themselves satisfied in visiting directly the to gateway of heven (Swargadwar). Bathing first at Swargadwar beach is conventional. Swargadwar is a sacred place. Sri Chaitanyadev too bathed here first, merged into Brahma (Divine Soul) here in Nilachal. According to scriptures, the Brahmadaru, from which the three main deities of the Jagannath temple are carved out, floated to the beach at Swargadwar.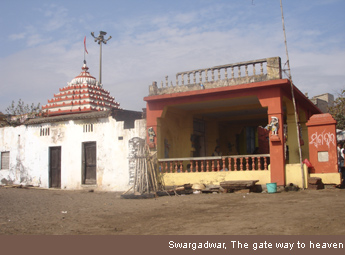 The ghat itself is a little square of darkness and silence in the centre of this worldly bustle; here the only lights are not those of bulbs and lanterns but of the slow-burning funeral pyres. It is natural considering the place as a divine for any time in the year, be it the season of heavy rain or shivering cold, be it the mid of dark night or the noon, one can view the magnanimity of the place for which it is famous.