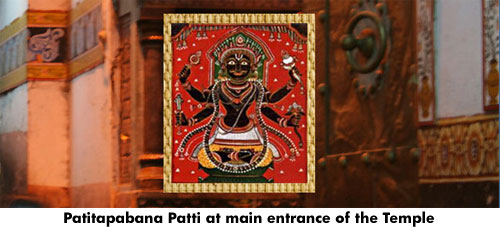 During the bathing festival (Deva Snana Purnima) the Deities of the temple have a bath with 108 pots of cold water to fight the heat of summer. After this royal bath ceremony the three Deities are sick and they stay away from the public view for a period of 15 days. This period is known as 'Anasara' or 'Anavasara' period commences from Jyestha purnima and ends with Ashadha amavasya. During these days the Deities stay away from the public view and there is a need for substitute images for the public and to whom daily rituals can be offered at temple, so during this time three patta paintings of Lord Jagannath, Lord Balabhadra and Goddess Subhadra are worshipped in the temple. These patta paintings are known as 'Anasara patti' or 'Anavasara patti'. During Anasara period the door of Patitapabana, the representative image of Lord Jagannath worshiped at the right side of Simha dwara (main entrance of the temple), is also closed. Besides the three main patta paintings, another small Anasara Pati is also prepared for Patitapabana and placed in front of the door for public view.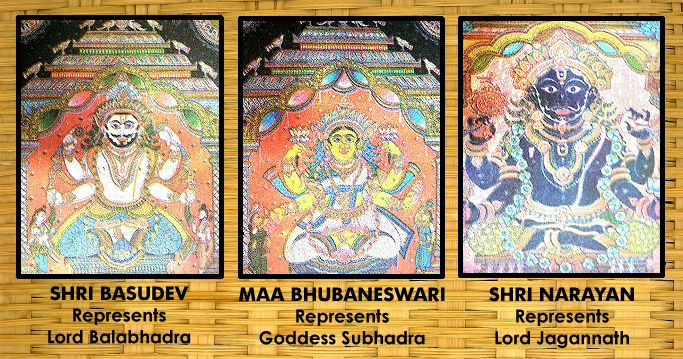 Preparation of Anasara Pati begins on Jestha amavasya. On this day, the temple Chitrakaras receive pieces of cloth from the Jagannath Temple administration to use as pattas (canvas). A group of 10 to 15 artists, under the guidance of the chief artist, work on the paintings and paint the images of Shri Ananta Narayan, shri Ananta Basudev and Goddess Bhubaneswari. The three paintings represent the three Deities. Shri Ananta Narayan represents Lord Jagannath, Shri Ananta Basudev is Lord Balabhadra and Goddess Bhubaneswari represents Goddess Subhadra. Each patta painting is made on a cloth of 5.5 feet long and 4 feet wide. It takes 15 days to finish the Anavasara pati.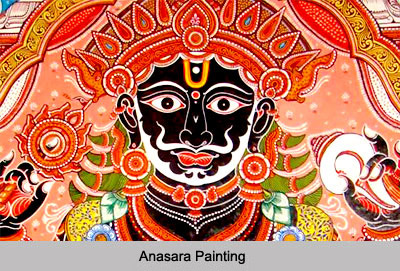 After completion, Priests from the Puri Jagannath temple come to the chief artist's house with a garland (Aagyanmala). As per the tradition, special Puja is performed at his house and after the puja the Anasara Pati is rolled and tied with a piece of cloth and then carried to the Jagannath Temple by the Chitrakaras and temple Priests in a ceremonial procession accompanied by Hymn, bhajan, kirtana, mridanga, ghanta etc. A Tati (temporary partition wall made of Bamboo) is constructed in front of the original deities and on this tati the three Pata Paintings are placed as the representatives of the three Deities.

The three Pata Paintings represent the traditional form of Narayan, Basudev and Bhubaneswari with their usual attributes. Narayan is carrying Sankha, Chakra, Gada and Padma with his four arms. Basudev is holding Sankha, Gada, Hala and Musala. Bhubaneswari holds two lotuses.
It is believed that visiting the temple of Alarnath of Brahmagiri to see Lord Alarnath is as good as seeing Lord Jagannath during the Anasara period, so thousands of devotees visit Brahmagiri to have a darshan of Alarnath.