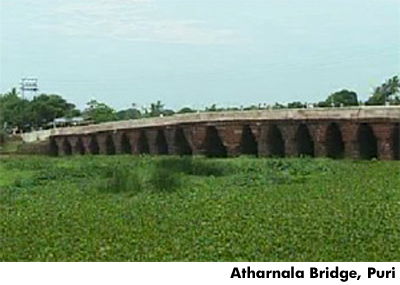 A living example of medieval Odishan architecture, Atharnala bridge was constructed by Bhanu Deba of the Ganga Dynasty in the 13th century on the river Muthiya and is still in use. Atharnala is a combination of two words, 'Athar' and 'Nala'. In local oriya language 'Athar' means 'Eighteen' and 'Nala' means 'Passage', so 'Atharnala' combinely means 'Eighteen Passages'. There are 18 brick passages on which the bridge has been made. It is considered to be an architectural marvel and is one of the most historical tourist attractions of Puri in this day and age. It defines Odisha's engineering marvel of the ancient times and is truly the gateway into this beautiful city. The bridge is situated at the entrance of Puri town, welcoming all of its proud locals who use it on a daily basis as well as all tourists who travel to the Holy city of Lord Jagannath.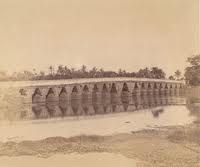 The bridge is spread over a length of 85 meter (280 feet) and breadth of 11 meter (36 feet). The mighty historical testament grabs attention of tourists due to its testimony and architecture as the bridge encompasses eighteen arches ranging from seven to sixteen feet across. On top of the original brick bridge the present bridge has been constructed directly. Atharnala bridge is a protected monument by Archeological Survey Of India. To preserve the spectacular structure of the 13th century old bridge and also for the safety of the travelers, heavy vehicles are not allowed to use the bridge now a days.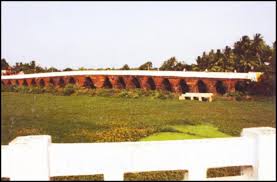 The Atharnala Bridge is of special importance to the pilgrims. The pilgrims can get a spectacular long distance view of the Lord Jagannth Temple by standing on the Atharnala bridge and often come here to offer prayers to their Almighty.