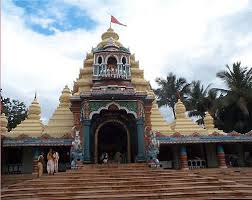 Maa Tarini is the presiding deity for all Shakti peeths or shrines in Odisha. The origin of Shakti or worship of the Earth as a female embodiment of power is found across many cultures all over the world. In Odisha which has a high density of tribal population whose religious practices have been assimilated into the mainstream Hindu faith, the worship of natural formations such as rocks, tree trunks, and rivers is widespread among the tribes.

In 1475 AD, when Odisha was known as Kalinga. King Purusottam Dev ruled Kalinga. Legends galore present Lord Jagannath as a friend, philosopher and guide to his devotee, be he a prince or a common man. One legend with a delightful association with the car festival concerns King Purusottam Dev (15th century). Travelling through South India, the young king chanced to see Princess Padmavati of Kanchi, and was charmed by her beauty. He proposed to the father of Princess. The minister of Kanchi proceeded to Puri to finalise the arrangements for the wedding. That was the time of the car festival was in full swing. He saw the king sweeping a part of the chariot where the deity was to be placed. This signified that even the king was a humble servant of the Lord.

Marriage to a sweeper was unacceptable and hence the marriage was called off. As the king was insulted; he declared war on Kanchi. Govinda Bhanja was his Senapati or General of his army. Bhanja was the son of the king of Keonjhar and was staying in Puri because of differences with his father. Few days later on demise of the king of Keonjhar, Govinda Bhanja had to move to Keonjhar. He requested to take with him Goddess Maa Shakti (Earlier worshipped by Rama Chandra during the search for Sita as per the epic Ramayana) which he was brought after the win over Kanchi.

Goddess Maa Shakti agreed to follow Bhanja provided he never looked backed all the way from Puri to Keonjhar. Bhanja agreed and the two left on horseback. Near the Baitarini River in modern Keonjhar district, Bhanja could no longer hear the following horse. He looked back and Maa halted then and there and asked Bhanja to construct her temple and worship her there.
Goddess Maa Shakti was named Maa Tarini. Maa Tarini is worshipped by all sections of people of Odisha & people from different parts of the world.