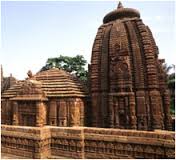 Situated around a kilometer east of the Lingraj temple, the Brahmeshwar temple was built by the reigning king's mother in honor of the deity Brahmeshwar (a form of Lord Shiva). It's approximately 60 feet tall. Iron beams were used in the temple's construction for the first time. In addition, another first in temple iconography were the musicians and dancers that appear prolifically on the temple walls.

Other than that, the Brahmeshwar takes quite a bit of its design from the earlier Mukteshwar temple. Its porch also has a carved ceiling with lotus, and there are plentiful lion head motifs (which appeared for the first time on the Mukteshwar temple) on its walls. Also similar to the Rajarani temple, there are several carving of erotic couples and voluptuous damsels.

The temple exterior is decorated with the figures of several gods and goddesses, religious scenes, and various animals and birds. There are quite a number of tantric related images on the western facade. Shiva and other deities are also pictured in their frightening aspects.